Published Books on Madar-i-Millat
JAMHURIAT, AAMRIYYAT AUR MADAR-I-MILLAT
| | |
| --- | --- |
| Publisher: | Nazaria-i-pakistan Trust |
| Author: | Wakeel Anjum |
| Publishing Year: | 2003 (Pages 490) |
This book is a detailed account of Madar-i-Millat's struggle for the establishment of true democracy in Pakistan as envisaged by our founding father Quaid-i-Azam. It shows that despite her old age, once again she stepped into politics just to preserve the national interests of her beloved country. It also exposed the political sycophants of Ayub Khan and the hidden hands behind the massive rigging in presidential elections.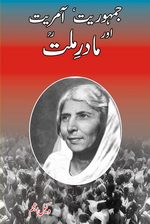 Afkar-i-Mader-i-Millat [Urdu]
| | |
| --- | --- |
| Publisher: | Nazaria-i-pakistan Trust |
| Author: | Shahid Rasheed |
| Publishing Year: | 2008 (Pages 200) |
This book is a beautiful anthology of thoughts and ideas, speeches and statements of Madar-i-Millat Mohtarma Fatima Jinnah on various aspects of our national life. It is a useful reading particularly for the women and young girls for whom; the Madar-i-Millat is a role model.